R Ashwin has become the first batter to be tactically retired out in the IPL, by Rajasthan Royals against Lucknow Super Giants on Sunday evening. Promoted to No. 6 in the tenth over, presumably to allow the regular No. 6 Riyan Parag a more suitable point of entry, Ashwin walked off after two balls of the 19th over when the team's total was 135 for 4, having scored 28 runs off 23 balls. Parag ended up scoring eight off four balls. The move bumped up Royals' projected score from 152 to 159 on ESPNcricinfo's Forecaster, but thanks to a finishing kick from Shimron Hetmyer, they ended with 165.At the time it wasn't clear who had initiated the move: Ashwin or the dugout. Hetmyer told Star Sports in the mid-match interview that he had no clue about the move, which does explain the shocked expression on his face when Ashwin walked off during Avesh Khan's over. But post-match it emerged that it had been a joint on and off-field decision.
The relevant law states: "A batsman retires out if he retires without the umpire's permission and does not have the permission of the opposing captain to resume his innings. If such a return does not occur, the batman is marked as 'retired out' and this is considered a dismissal for the purposes of calculating a batting average."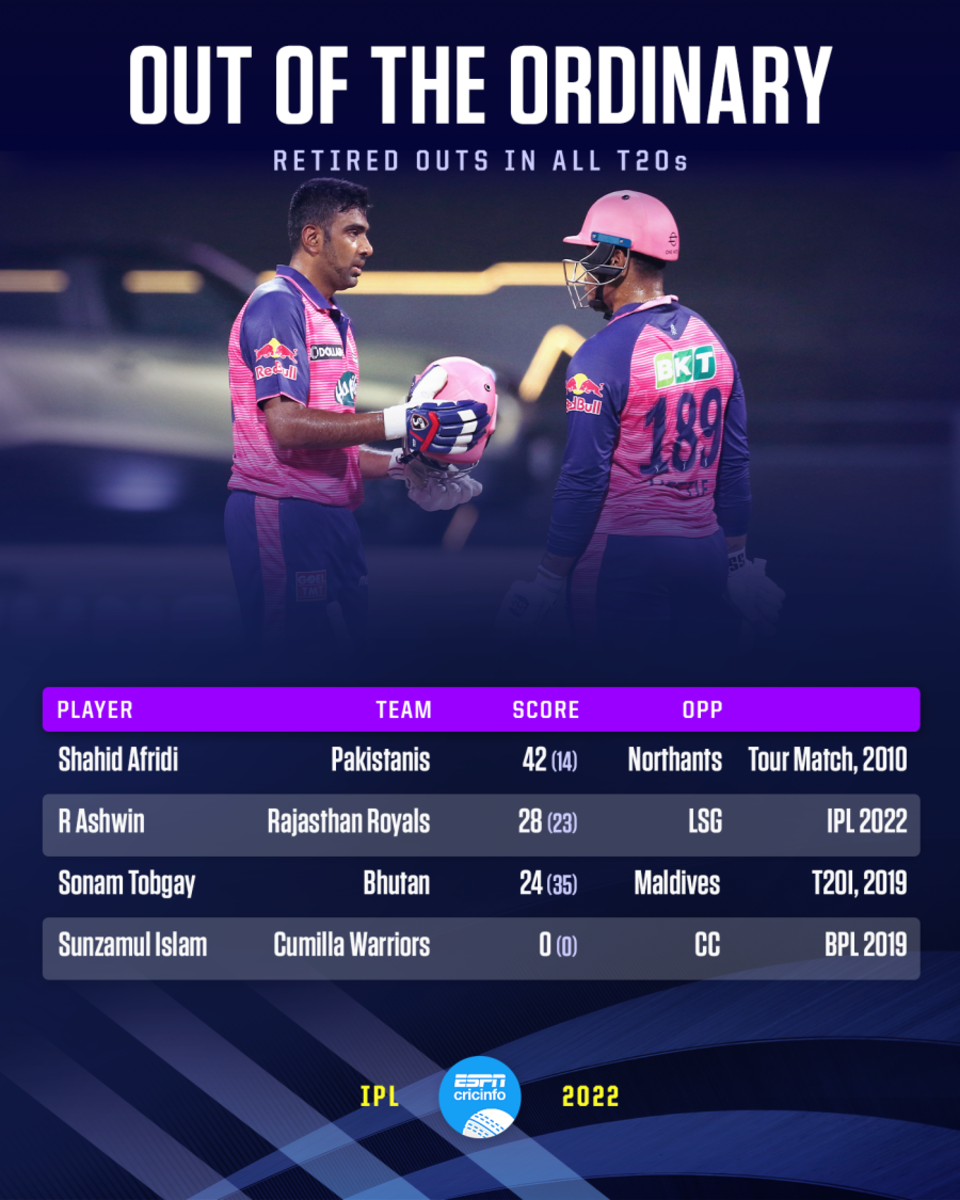 RELATED: Highlights IPL 2022, Rajasthan Royals vs Lucknow Super Giants Match 20: Yuzvendra Chahal Picks Four-Fer, Rajasthan Script Thrilling 3-Run Victory
This was the first tactical retired-out dismissal in the IPL, but it has happened before [check graphic] in the format, even in international cricket. In 2019, in the South Asian Games, Bhutan's Sonam Togbay retired out at the end of the 19th over against Maldives.This mode of dismissal has long been anticipated as the next innovation in T20 cricket because the innings in T20 cricket are so short teams want to maximise each ball, and can't afford a less-than-ideal batter batting in situations suited to other batters. However, some coaches have felt it is a step too far.
"Nah, that's part of the battle, isn't it?" Stephen Fleming had told when asked about it. "Even if you are not hitting it well, that constant battle to come right. Some guys have started terribly and ended up with the best hundreds you can see. I like that battle."That's the beauty of it, isn't it? Not let someone get away with it just because they can tap out – 'Not my day today, I am out'."Kumar Sangakkara, the Royals head coach, said both Ashwin and the team management had had a hand in the decision to retire him out.
ALSO READ: IPL 2022: Are Mumbai Indians And Chennai Super Kings Out Of The Play-Offs Race?
"It was a combination of both," Sangakkara said at his post-match press conference. "It was the right time to do that, Ashwin himself was asking from the field as well, and we had discussed it just before that, as to what we would do.
"I think as the coach I got one call wrong, not sending Riyan Parag ahead of Rassie van der Dussen and holding Rassie back, so we couldn't get the full benefit of Riyan, but I thought the way Ashwin handled that situation, walking in under pressure, the way he batted to support the team, and then finally sacrificed himself in terms of being retired out, was just magnificent, and then he went out in the field and backed it up with an excellent, excellent bowling effort."Royals' captain Sanju Samson reiterated the same during the post-match presentation."It's about being Rajasthan Royals. We keep trying different things. We have been talking about it before the season," Samson said. "We thought that if some situation occurs, we can use it. It was a team decision."