NEW DELHI: 'Catches win matches' – Over the years we have seen catches at crucial stages of a cricket match turning the tide of the game. Similarly dropped catches have often come back to haunt the fielding side.
The ongoing Indian Premier League (IPL) season is a prime example of good catches turning a game on its head. At the same time, a dropped catch is enough to show a team the exit door.
Apart from a number of jaw-dropping and acrobatic efforts by the fielders, the IPL this year has also seen a number of catches being dropped.
During the match between Royal Challengers Bangalore and Delhi Capitals, DC captain Rishabh Pant made a mess of a caught behind chance off Chinaman bowler Kuldeep Yadav. Karthik was batting on 5 when Pant failed to grasp Karthik's catch. Karthik went on to score an unbeaten 66 off 34 balls to eventually help RCB register a win.
ALSO READ: LSG vs RCB: KL Rahul fined 20 per cent match fee, Marcus Stoinis reprimanded for breach of conduct
In another instance, in the Rajasthan Royals vs Lucknow Super Giants match LSG's Krunal Pandya put down a dolly at long-on off Krishnappa Gowtham. RR's Shimron Hetmyer was batting on 14 when he was dropped by Krunal and the Windies batsman made a mockery of the LSG bowlers and piled on an unbeaten 59 off 36 balls to help RR post 165 on the board. In reply, LSG managed 162 and lost the match by 3 runs.
These are a couple of examples when a dropped catch really cost a team dearly.
So what are the main technical reasons behind dropped catches and what kind of practice should young cricketers put in behind the scenes to become good fielders?
TimesofIndia.com caught up with former India cricketer Maninder Singh, someone known for working hard on his fielding till he became a very good fielder and was stationed at point – perhaps the toughest fielding position, to talk about the art of fielding.
Maninder Singh played 35 Tests and 59 ODIs for India between 1982 and 1993, and talked to TimesofIndia.com about the art of good fielding, fielding standards these days, why there are multiple instances of catches being these days, the technique involved in becoming a good catcher and much more.
A number of catches have been dropped in the IPL this season so far – what would you put that down to – poor technique, nerves, dew or something else?
ALSO READ: IPL 2022: Virat Kohli is overcooked, needs a break, says Ravi Shastri
There could be a lot of reasons. Sometimes, it could be because of the lights. I would say most of the time it is because of the lights. Under the lights, you judge the ball late. That is the reason. There is a solution for everything. It's practice. The more you practice, the better you become.
I remember when I was 15 years old and got into the Delhi Ranji team, Maddi paa (Madan Lal) told me one thing that I still remember. He said – 'fielding is the one department where you don't need luck'. He said – 'the more effort you put into a practice session, the better you will become'. Wind and light will always be there. Practice is the only solution to this. That's the only way out.
The light is one reason and the other reason is a lack of enough practice. After Maddi paa's pep talk, I started taking 200 catches in a day. It included everything, short catches, long catches, high catches, and flat catches. The luck factor can play a big role in batting and bowling but it doesn't work in the fielding department. It's all your effort, hard work, and practice.
Are high catches in night games more difficult to take than those in day games because of the lights?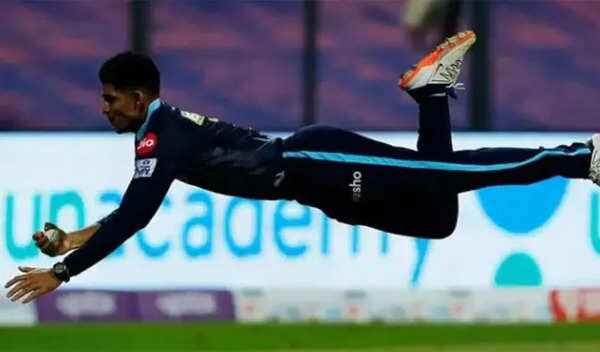 It could be possible. It has a lot of reasons. From which angle the ball is coming in, the height, speed. And a fielder needs to take the decision and prepare himself in a fraction of seconds. In daylight, you see things differently. In artificial light, you see things differently. It makes a lot of difference when we take catches in daylight as opposed to in artificial light.
What are the basics of catching that youngsters are taught from an early age?
Eyes on the ball. This is the most basic thing that should be taught to every kid and youngster from an early age. Your eyes have to be on the ball. When you take 150 to 200 catches a day, you become habitual. 150 to 200 catches daily help you to have good coordination with the ball. You know the movement, speed, height, and impact well before the ball lands in your hand. Again, this comes down to practice. You start judging the ball a little early.
From the time a bowler bowls and releases the ball till the time a batsman plays a shot, a good fielder gets an idea of where the ball is going to travel. I used to field at point, the most difficult position. A fielder should keep an eye on the bowler, the ball, and the movement of the batsman. That's how you become a good fielder.
Who have been the top 3 fielders in world cricket and who would you pick as the best currently?
Overall, I would pick Azhar (Mohammad Azharuddin). He was a brilliant fielder. Jonty Rhodes. There is no debate about that. Jacques Kallis and Vivian Richards are the other two in my opinion. In the current scenario, Ravindra Jadeja is the best fielder in the world currently. There are good fielders around the world but the brilliance category is something else. Jadeja is the one who fits in there.
Do you think sometimes youngsters are very nervous on the field while playing IPL games and that sometimes leads to mistakes while catching?
Nervousness will always be there. But it is just a matter of seconds. It's like you either take it or drop it. It will change the course of the game. We have to break the nervousness. It is important to be mentally strong when you are playing competitive cricket. When you are mentally strong, you convert that nervousness into positive energy. Nervousness will be there but how you convert it into positive energy, that shows your character.
Which is the best catching team of the IPL according to you right now?
Pin-pointing a particular team will be very difficult. The reason behind this is (that) the fielding standards have really gone high. As you mentioned about nervousness, it is definitely there. We have seen the best catches in the IPL. We have seen easy catches being dropped as well. Sometimes nervousness is there. The nervousness of playing the first match, in front of a massive crowd and most importantly the big batsman whose catch a fielder is going to take. Sometimes a catch of a big player, who is also a game changer, causes nervousness.
Is it sometimes incredible to see the ease with which fielders these days take catches at the boundary where they leap off the ground, throw the ball back and complete the catch after reentering the ground – and also relay catches where two fielders are involved – teams practice these drills regularly these days…
That is something brilliant to see. At one time, no one thought of these types of catches. This is modern-day cricket. Now, a lot of effort goes into fielding. Players are practicing these types of catches. I mean relay and throwing and reentering the ground catches. When you see such catches, it is a brilliant sight. It is exciting. During one of the last ODIs of my career, I took the catch (of Neil Fairbrother) during a match vs England in Gwalior. I was at the boundary ropes. The ball was going for a six. But I jumped and the ball got stuck in my palms.