Virat Kohli : The 31-year-old India batter has so far featured in 21 Tests, in which he has accumulated 1488 runs at an average of 41.33.
Team India achieved great success under Virat Kohli's captaincy. Under his leadership, the team secured the number one position in Tests, defeated Australia in their own backyard, which was their first Test series win in 71 years. Not only Australia, but the unit also produced a stellar show in England, where the team were leading 2-1 before the series got suspended midway due to Covid outbreak inside the Indian camp.
During Kohli's tenure, one specific feature of his captaincy that won hearts was how he would make a newcomer into the side hold the series trophy after winning a series – be in Tests, ODIs or T20Is. During Kohli's reign several players made their India debut and out of the many one name that stands out is Mayank Agarwal. The 31-year-old made his Test debut in the historic series against Australia in 2018 and has since went on to become a key member in India's red-ball set-up.
Playing his first Test in Melbourne, Agarwal straightaway made an impact scoring 76 in his maiden innings. In the three innings that he got to bat in the series, the right-handed batter amassed 195 runs at a rich average of 65.00.
Recalling the event during an interaction with renowned journalist Boria Majumdar, Agarwal termed the memories as 'fantastic'.
"Fantastic memories. I can definitely say it was a sleepless night before. Thinking about what's going to happen, what's not going to happen. I think as a player that is the most special feeling. As a player you're contributing and the team is winning, so there is no better or bigger feeling as a sportsman," said Agarwal during an interaction on the show Backstage with Boria on YouTube.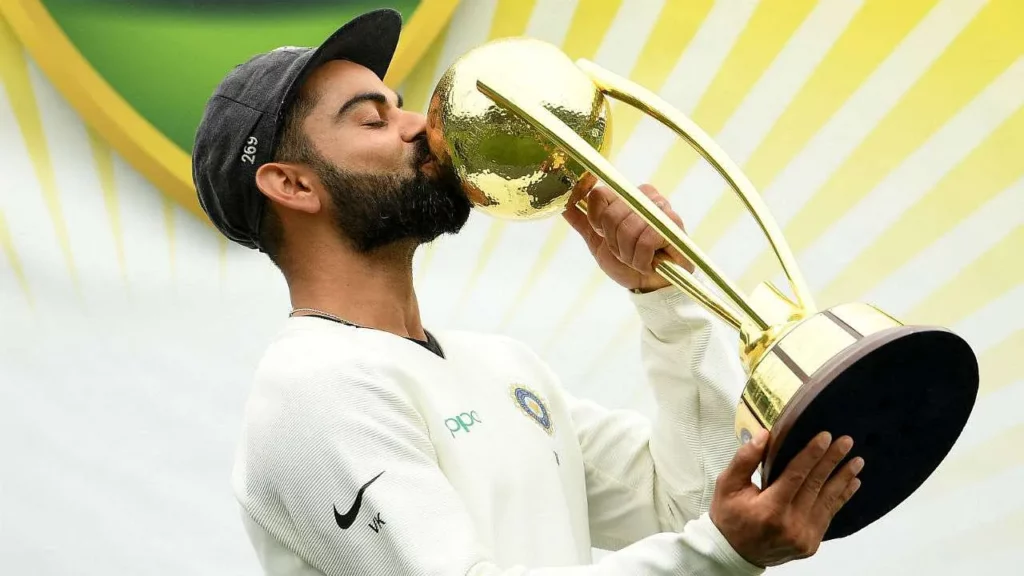 ALSO READ: Bangladesh Tour of South Africa 2022: All you Need to Know – Squads, Fixtures and More
Agarwal also spoke about a special moment from the tour involving former India captain Virat Kohli.  "I was very lucky that Virat, after receiving the trophy he gave it to me. As tradition goes, he said 'here it's for you, you've made a debut, you're going to stand there and lift the trophy'. That memory, the feeling are truly special."
Coming to the present, Agarwal also highlighted the area where he would like to see him excel in.
"I would say post debut series, I had a great run in the home season, something I'm very happy about. I pat myself for the kind of performance at home but with that said I've to be honest with me as a cricketer definitely getting more runs abroad, getting centuries abroad, more match-winning performances abroad would actually make me feel a lot better," the right-handed batter said.
Making full use of the limited number of opportunities that has been handed to him, Agarwal has so far featured in 21 Tests, in which he has accumulated 1488 runs at an average of 41.33
Virat Kohli's photo with fan who invaded pitch during Bengaluru Test goes viral
Virat Kohli's photo with a fan who invaded the pitch during the second Test between India and Sri Lanka is going viral on Twitter.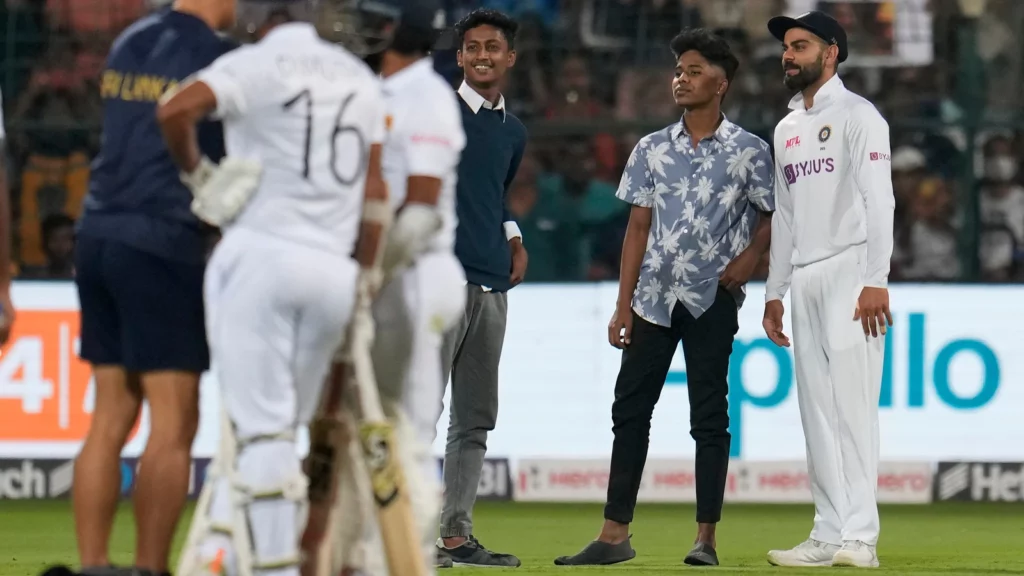 Getting a photo clicked with their favourite actor or cricketer is a dream for many people. To make it come true, some can even go to any length like invading the pitch for getting a selfie with their favourite player like Virat Kohli. This is what happened in the Bengaluru Test between India and Sri Lanka when three youngsters invaded the pitch during the closing stage of Day 2. Two of them managed to click a selfie with former skipper Virat Kohli before security personnel took control of the situation.
Now in a photo that is going viral on Twitter, someone uploaded one of the photos of the fan who managed to get himself clicked with Kohli. He uploaded it on Twitter on March 14 with a sarcastic caption. In the photo, the fan is seen standing casually next to Kohli. The photo was got over 32,000 likes so far.
Honestly can't tell if this is fake or real, if this is fake this is very well edited," commented a Twitter user, to which a user replied that the photo is real and shared a news article about the security breach. "Lucky man to meet King Kohli," said another. "Kohli is the lucky one here," said a third sarcastically.
The person who uploaded the photo clarified in the comments that it is not him in the photo and he just wrote the tweet sarcastically.
When the three fans breached security during the sixth over of the Sri Lankan second innings, Kohli not only obliged for a selfie but also tried to stop the security personnel from dealing with the situation harshly.