WTC 2023 Final: After enjoying a near-perfect 18 months in Test cricket, three monumental challenges loomed large for Australia this year: The Border-Gavaskar Trophy, World Test Championship Final and the Ashes.
Their first venture to India was, for all intents and purposes, a failure, with 90 minutes of chaos in Delhi ensuring the host nation retained the Border-Gavaskar Trophy in less than six days.
Australia bounced back in Indore and Ahmedabad, but the team's experienced players knew they had thrown away their last opportunity to defeat India in their backyard.
"We had our backs against the wall and we went 2-0 down in that series and weren't able to win it after Delhi," Australian wicketkeeper Alex Carey told the ICC this week.
"But from the group's perspective to be able to bounce back and to win in Indore showed a lot of character from the group.
"We walked away from the midpoint (of the series) with a bit of confidence knowing we were good enough in those conditions and there were a few little areas we would have liked to have cleaned up.
"But hey … now the grand final is here."
Pat Cummins' men haven't had to wait long for a chance at revenge, with the World Test Championship final, the only ICC event Australia has never won, to be contested at The Oval this week.
Australia shot themselves in the foot during the previous World Test Championship cycle, missing out on the final because of their slow overrate from the 2020 Boxing Day Test. Meanwhile, India was outclassed by Kane Williamson's Black Caps in the 2021 WTC Final, where Southampton's gloomy conditions replicated New Zealand's home summer.
Both sides are seeking redemption in London, with the victor set to pocket $2.4 million in prize money, while the runner-up gets $1.2 million.
"The last two years have been built up to this final. To make it has been a huge achievement to this team," Cummins told Fox Cricket.
"You could argue it's the biggest trophy in Test cricket. You're competing against all other Test nations.
"To play India in a neutral venue is going to be fun as well."
Also Read: 'MS Dhoni could've still played for India if he…': Wasim Akram's brave claim on CSK captain
HOW AUSSIES QUALIFIED
Australia's World Test Championship cycle kicked off in dramatic circumstances, with captain and wicketkeeper Tim Paine stepping away from cricket a couple of weeks before the Ashes in December 2021.
But newly-appointed skipper Pat Cummins led the hosts to a thumping 4-0 series win over England, with the Australians falling one wicket short of a rare Ashes whitewash at the SCG.
After Justin Langer's resignation as head coach in February 2022, Australia travelled to the subcontinent for a historic Test tour of Pakistan, their first visit to the Asian nation in 24 years.
Following two frustrating draws in Rawalpindi and Karachi, Australia secured a gritty 1-0 series victory courtesy of Usman Khawaja's heroics with the bat, winning the inaugural Benaud-Qadir Trophy.
Andrew McDonald was appointed head coach in April before Australia flew to Sri Lanka for two Tests in Galle. Cummins' men retained the Warne-Muralitharan Trophy after the series, played during a nationwide political protest, ended as a 1-1 stalemate.
Australia returned home and dominated the West Indies and South Africa during the recent summer, winning four consecutive Tests before the New Year's fixture against the Proteas ended as a rain-affected draw.
The Australians were comfortably atop the World Test Championship standings, but still needed at least one draw from their four Tests in India to book a spot in the final.
And after suffering two embarrassing defeats in Nagpur and Delhi, Australia jumped the final with a nine-wicket triumph over India on a raging turner in Indore.
Anderson & Woakes rested against Ireland.
THE VENUE
In a refreshing change, neither side will benefit from the luxuries of home conditions. For the first time in their 76-year Test history, Australia and India will face off at a neutral venue in London.
Australia has won just seven of their 38 Tests at The Oval since 1880, but India's record at the London venue isn't much better, with two wins in 14 matches dating back to 1936.
The Oval is regarded as one of England's most spin-friendly decks, certainly when compared to the other Ashes venues. Spin bowlers have taken 33 Test wickets at 28.72 since the start of 2018, which could tempt India into picking both Ravindra Jadeja and Ravichandran Ashwin.
"I think it will be a bit more similar to an Australian wicket than it will be to an Indian wicket, therefore I'm giving a slight advantage to Australia," former Test captain Ricky Ponting told reporters last month.
"Normally the wickets that I played on at The Oval have started as really, really good batting wickets and actually have offered a little bit to the spinners as the game's gone on."
New South Wales seamer Sean Abbott, who has been plying his trade for Surrey in the County Championship, has played three first-class matches at The Oval this season, sending a clear message to his Australian teammates before they travelled over to the United Kingdom.
Push the slips back.
"The pitch we played on last week was bloody quick. The ball was flying through," Abbott told cricket.com.au last month.
"There was probably more nip in it for slower guys, there was a little bit of swing, but I can assure you there was some pace in the wicket."
Australian vice-captain Steve Smith has enjoyed plenty of success at The Oval, averaging 97.75 in three matches at the venue, including his maiden Test century back in 2013.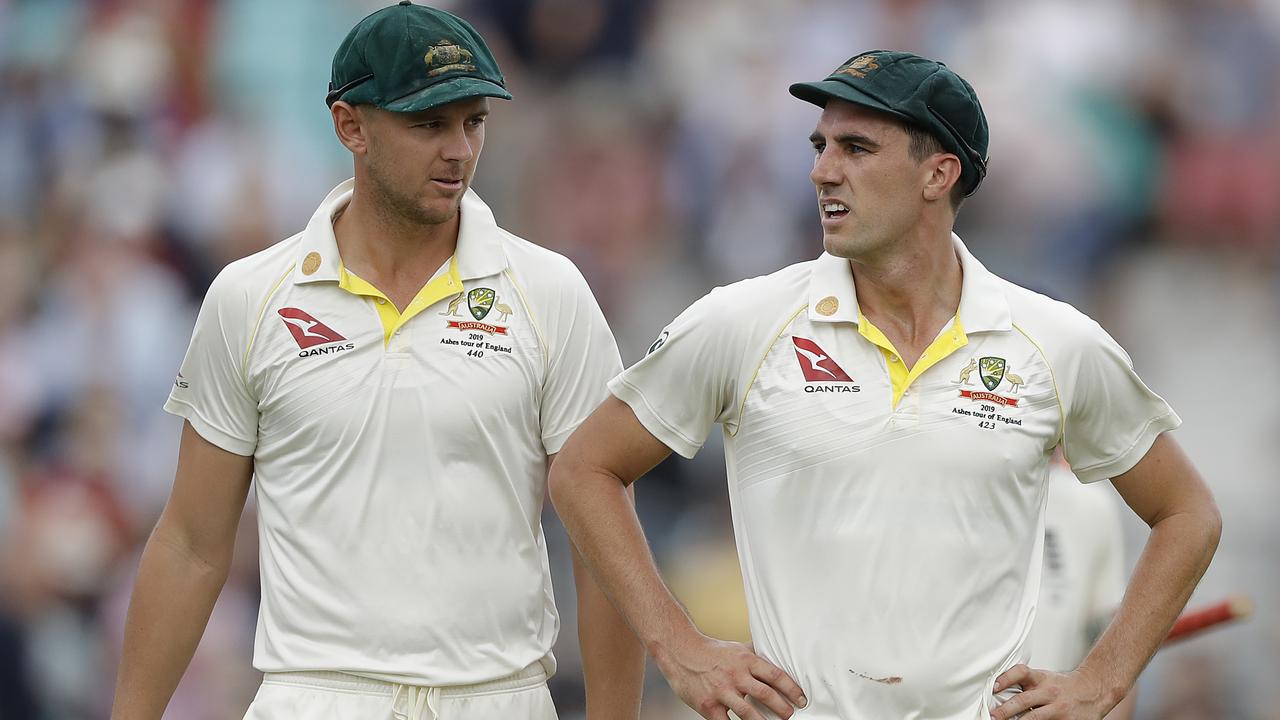 THE TEAMS
India, once cricket's underdog, has become a powerhouse Test nation packed with talented batters and menacing pace bowlers.
Virat Kohli and Rohit Sharma are modern greats of the sport, Cheteshwar Pujara has terrorised Australia's bowlers for over a decade, while India's batting stocks have been bolstered by the return of former vice-captain Ajinkya Rahane.
However, India will be without a trio of their biggest stars for the WTC Final, with paceman Jasprit Bumrah, wicketkeeper Rishabh Pant and batter Shreyas Iyer all recovering from long-term injuries.
Meanwhile, Australia's line-up is fairly settled with a question mark hovering over Josh Hazlewood, who returned home early from the Indian Premier League due to side soreness.
His replacement is set to be Victorian seamer Scott Boland, who is averaging 13.42 with the ball after seven Tests.
Boland will also be well accustomed to the intricacies of the Dukes ball, having played with it in the Sheffield Shield from 2016 to 2020.
"It does take a little bit of adjusting, but after one or two sessions you can get a handle on it," Boland told cricket.com.au.
"I've spoken to (Cummins) about the ball, how he holds it, and what he's thinking when it's moving so far.
"He also said you don't need to chase wickets. If the conditions are in your favour and you don't get a wicket in one spell, the ball will still be moving so you'll be every chance in your next spell."
Michael Neser had been called into the Aussie squad to replace Hazlewood but on Tuesday Cummins confirmed there would be "no surprises" in the XI.
"We're big on kind of everyone bowling slightly differently," Cummins said "Scott is a seam bowler on a good length, but he just offers something slightly different to Joshy Hazlewood, and Starcy being a left hander is bit different.
"So I don't think there's ever a pecking order. You think about the three guys that you want to go out and play."
Likely Aussie XI: David Warner, Usman Khawaja, Marnus Labuschagne, Steve Smith, Travis Head, Cameron Green, Alex Carey (wk), Pat Cummins (c), Mitchell Starc, Nathan Lyon, Scott Boland
'I'm too old for that crap'
THE LEGACY
Several of Australia's experienced players are approaching the twilight of their international careers, and they almost certainly won't get another chance to win the prestigious World Test Championship mace.
David Warner and Usman Khawaja probably won't be playing Test cricket in 2025, while Josh Hazlewood and Nathan Lyon may be embarking on their final tour of England. Last month, Smith confessed he might not return to the United Kingdom for another Ashes summer.
When future generations reflect on this team's legacy, winning the World Test Championship mace and the Ashes urn in England could be the difference between a good team and a great team.
Australia has only won one Test series outside of Oceania in the last eight years. If Cummins and his comrades return home in August without the Border-Gavaskar Trophy, the WTC mace or the Ashes urn in their possession, cynics will forever whip out the unwanted "home-track bully" tag.
"The asterisk on my career was I didn't beat the West Indies," former Australian captain Allan Border confessed to Fox Cricket.
"You always look back and think, 'God, we had a few chances there and we just blew it.'
"That'll be the same for (Australia). Winning in England, it's not that easy. It doesn't happen all that often.
"They're a bit vulnerable, the Aussie side at the moment. The bowlers will do a good job, but the batting worries me. We need Smith to fire."
The World Test Championship gets underway on Wednesday, with the first ball scheduled for 8pm AEST.